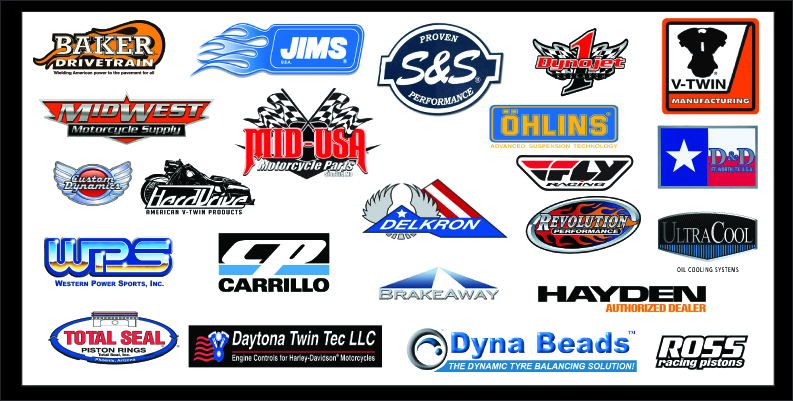 Proud Supplier
Stiff Cycle and Motorworks is a proud dealer for these parts manufacturers. We've found that they can be relied upon to provide the workmanship and quality that we can stand behind.
Stiff Cycle
The main focus of Stiff Cycle and Motorworks is the service, repair and high performance mechanical upgrade of Harley Davidson motorcycles, with most machining and all mechanical work performed on site. We provide a dependable, professional alternative to the dealers. From oil changes and other maintenance to complete custom high performance upgrades, we are here to meet all your needs with quality service.
With a lifelong passion for everything on two wheels, we have extensive experience in the Harley Davidson high performance industry. Starting in our garage twenty years ago, we found we had both the aptitude and desire to build Harley Davidson motorcycles. We have successfully built and maintained award winning and record breaking bikes. Our attention to detail and insistence on perfection has led us to a lifetime of engine modifications and complete bike builds for street, strip and dyno competition applications, recently adding land speed record bids to our resume. Intimately well versed in all aspects of Harley Davidson maintenance repair and service of all years and variations, with returning clients from coast to coast (and some overseas), we bring the knowledge, technical experience and proven reliability that you want. We want to know the rider before we build the bike so that the client gets what he needs as well as wants - a unique approach in the Harley world.
Stiff Cycle seeks to provide quality, professional motorcycle service, repair, maintenance and performance mechanical work, exceeding our clients expectations by providing personalized service. Our goal is to provide our clients with dependable, affordable mechanical services that they can trust, knowing they will be treated honestly and fairly.